____________________________
We use only quality products by reputable manufacturers such as:



Products
Here are some of the quality products we use:
Hunter Products
"Courtesy of Hunter Industries"

PGP-ADJ® Rotary Sprinkler

The world's best selling residential and light commercial rotor sets the standards for an entire industry.
Why settle for second best when you can have the sprinkler by which everything else is measured. The PGP® is Hunter's original product, the item that put the company on the map in 1981. Its exceptional design and impressive performance placed the rotor a cut above back then, while continuous improvements and enhancements have allowed it to remain the number one selling rotor in the world ever since. With the superior ability to deliver even water distribution from precision engineered nozzles, this sprinkler is unequaled for reliability, durability, versatility, and value. With its patented features and Hunter's years of experience in gear-drive technology, it's no wonder the PGP remains the professional's choice.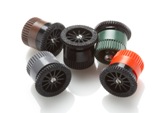 Pro Adjustable Nozzles

Cover all the angles. Fine-tune nozzles to the arc you need. Introducing another new product from Hunter. Our new generation Adjustable Arc Nozzles are made to cover all those in-between angles. Whether hillside topography, a curved flower bed or other special landscape installation, challenging angles demand nozzles that adjust to their surroundings. Don't forget, these are perfect for right out-of-the-box standard angles as well. They offer the best results of just about any adjustable arc nozzle in the industry.
We're talking well-defined, clean edges. Engineered to handle bigger water drops, these nozzles also deter winds from dispersing water. With their matched precipitation, you can group them together, even with different radii. And their perforated top makes them easier to adjust than ever. Set our nozzles at any angle from 25° to 360°.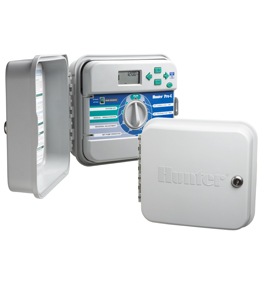 Pro-C Controller
Versatile modular design

Large LCD display for simplified programming
Easy to read for schedule review and entry
Three programs (A ,B, C) with multiple start times
Independent programming handles many different watering requirements
Choice of independent day scheduling options
Days of the week, odd/even or 31-day interval for maximum flexibility
Global water budget/seasonal adjustment
Easily change run time of all zones from 10% to 150%
Non-volatile memory
Holds programs indefinitely; excellent insurance against unreliable power
Superior surge protection and self-diagnostic short circuit protection
Microcircuits are protected from electrical spikes, no fuses to worry about
Remote control ready
Supplied with connection for SRR and ICR remote controls

HPV Valve

A heavy-duty residential valve made specifically to handle demanding situations.
Built to work. Built to last. The Hunter HPV is a valve that's both. Because this is a valve with every feature you could ask for to attain long-lasting, heavy-duty performance. Rigid internal support to prevent stress failure in high pressure situations. A unique porting system with a superior ability to filter dirty water that also closes slowly to suppress water hammer. Low-flow capability for effective drip applications. A captive diaphragm, solenoid plunger, and bonnet screws, so lost parts are never a problem. There's even a flow control option that assures efficient operation when accurate flow management is required. For residential and light commercial applications, the Hunter HPV plastic valve is built to take whatever your site is dishing out.

Mini-Clik®
The world's most simple, accurate, rugged, and reliable rain sensors.
There's nothing more embarrassing–or more wasteful or costly–than an irrigation system that runs when it doesn't have to…in the rain. Mini-Clik® provides the simplest, most effective way to prevent sprinklers from coming on during or after precipitation. Disks absorb water and expand proportionally to the amount of rain that fell (e.g., a small cloudburst would result in little absorption, a 6" thunderstorm would lead to more absorption and expansion). As the moisture-laden disks expand, they eventually activate a switch that interrupts the circuit from the controller to the solenoid valves. Once dry, they contract and release the switch. Thus, Mini-Clik automatically resets without ever affecting your controller. There's no better way to ensure that a system isn't watering when it isn't necessary.

MP Rotator®
WATER CONSERVATION TOOL
•Multi-trajectory rotating streams provide unmatched uniformity
•Automatic matched precipitation even after arc & radius adjustment
•Low application rate reduces runoff on slopes & tight soils


PROVEN DURABILITY & RELIABILITY
•Rotator® Technology proven in demanding agricultural conditions since 1987
•One moving part
•Patented "double-pop" flushes on start-up and shut-down without increasing spray head flow-by

SIMPLE ADJUSTMENTS
•Easy arc adjustment
•Easy radius adjustment - up to 25%
•No need to change nozzle to maintain matched precipitation
•Removable inlet filter for easy cleaning
Rainbird Products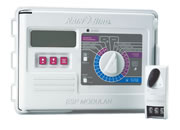 Rain Bird® ESP Modular Irrigation Controllers
Easily expand from a 4 station base model to 13 stations with 3 station hot-swappable modules, which can be added without powering down the controller.
Another example of Rain Bird's legendary reliability, the ESP Modular offers industry-leading surge protection, temperature tolerance and rugged construction. It improves upon Rain Bird's already easy-to-use ESP style of programming with a large, easy to read display and intuitive programming sequence, making this the most user-friendly irrigation controller in its class.
FEBCO Products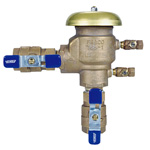 FEBCO Backflow
Series 765 Pressure Vacuum Breakers are designed to be installed to provide protection against back siphonage of toxic or non-toxic liquids. They feature a durable bronze body and a check valve and air opening port in one assembly. Maximum Working Pressure: 150psi (10.3 bar).
Fully Licensed & Insured
CS# 90682 - HIC# 144905